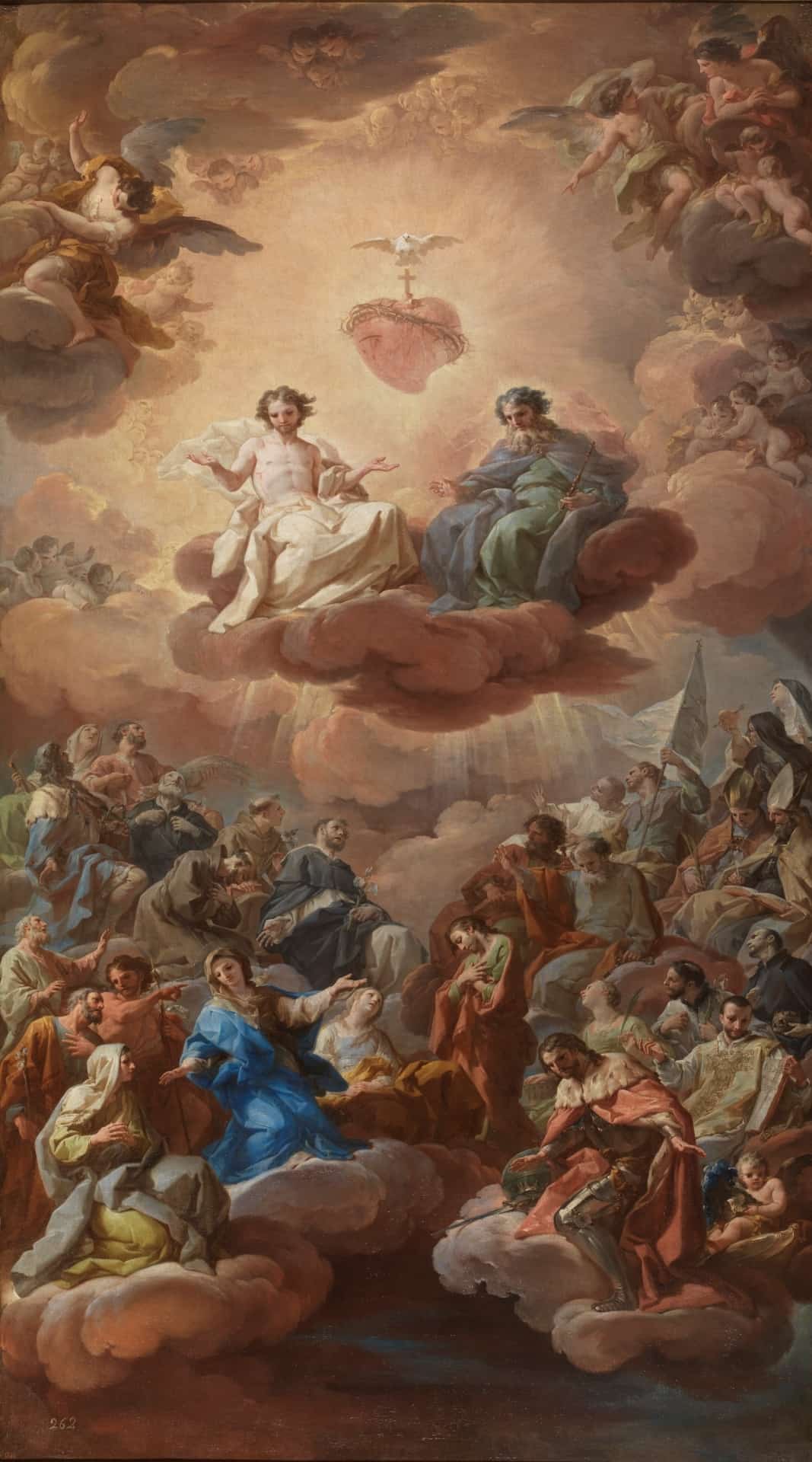 Image: Holy Trinity and Sacred Heart of Jesus, Corrado Giaquinto [public domain]
In the last post we considered the spiral of sin in the first part of salvation history. This could lead us to ask whether there is any hope in all of this evil in the Old Testament, or is the story of salvation history simply one long, depressing tale of offenses against the Almighty?
Something New
Thankfully, this is where the promises of salvation from God come into the equation, promises such as those given to the patriarch Abraham of a worldwide blessing to come from his seed/line, or the promise to King David of an everlasting kingdom. Likewise, the prophets—famous for "doom and gloom" preaching, but sadly not as famous for the restoration in God that they simultaneously preach—also constantly speak of something "new" that God promises for His people: if His people but return to Him, then He will give them a new heart, a new spirit, a new covenant, new shepherds, and a new creation.
Yes, the Old Testament is filled with wrath and bloodshed and all of the evils that man can come up with, but there's also the beautiful thread throughout of the promise of redemption. Which is another thing that our students at the Biblical School marvel at: not just the carnage of the Old Testament, but the beautiful love of God throughout, ever seeking to restore man to His grace at the repentance of his sins.
Waiting
However, to any faithful observer during the Old Testament days, God's promises had yet to come to fruition in the Old Testament, and his people therefore awaited their fulfillment. But one could also rest assured knowing that they would come to fruition, precisely because, as St. Paul writes in his epistles, God is faithful to His promises.
Of course, redemption may not happen when or how we would like or expect it to, but it certainly will happen. In fact, this is precisely why St. Paul writes that the righteous of the Old Testament are models for us, because they believed in the promises of God without seeing them come to fruition:
"These all died in faith, not having received what was promised, but having seen it and greeted it from afar, and having acknowledged that they were strangers and exiles on the earth" (Hebrews 11:13).
Furthermore, not only has God promised the offering of salvation to man, but one could also rest assured knowing that He had proven Himself faithful before. The Exodus, for example, became the paradigmatic event of liberation for God's people, and as such the prophets also continually preach of a new Exodus to one day come: a true liberation for man from his real enemy: Satan, sin, and death.
To any faithful observer, it would also be perceived that this promise of a true liberation didn't just come during the era of the prophets or kings or patriarchs, but in fact went all the way back to the beginning. For we read in Genesis 3:15, with God speaking to the ancient serpent:
"I will put enmity between you and the woman, and between your seed and her seed; he shall bruise your head, and you shall bruise his heel."
The "you" here is Satan, the "woman" is the Blessed Virgin Mary, "your seed" is all of the evil one's minions, and "her seed" is Jesus Christ. And while to bruise the heel is to inflict pain upon somebody (which happens, of course, in the Passion of Christ), to attack the head in ancient cultures is an authoritative and definitive victory, attacking somebody's head symbolizing that you are going after their very life (hence King David cuts off Goliath's head).
Infinite Mercy
Bring all of this together and we see that the infinite mercy of God is astounding. God's infinite justice demands that man pay the price for Adam's sin in the Garden, but His infinite justice never acts absent His infinite mercy, precisely because His infinite justice is His infinite mercy.
And so we see in Genesis 3:15 that in the midst of this unspeakably heinous crime against God—one cannot ever overstate the catastrophic nature of sin—God preaches the Gospel of Christ crucified and the Blessed Mother to Adam, Eve, and Satan. God, Who is so infinitely just that man is rightly punished for sin, is also so infinitely merciful that He doesn't want to leave us languishing in sin, doesn't want death and sin to have the last word.
Not only that, but the way in which He will redeem us from sin demonstrates his infinite mercy: the Second Person of the Most Holy Trinity, the Word, God Himself, will actually become man and let Himself be killed in the most horrific, brutal, disgusting form of death, offering Himself as a sacrifice for the forgiveness of sins for the very people who are torturing and executing Him.
It is utterly mysterious just how much God loves you, that He'd die for you on the cross! No matter how hard you tried, you couldn't write a better story about mercy than this. As we pray from the Exultet of the Easter Vigil: "O happy fault that earned for us so great, so glorious a Redeemer!"