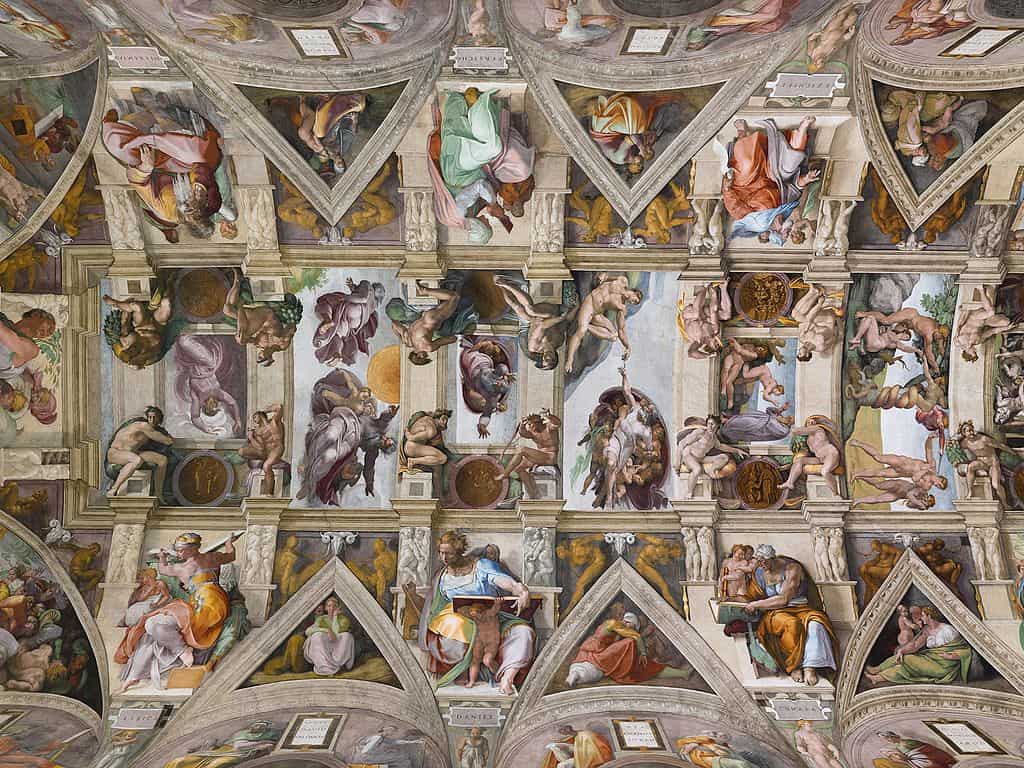 Image: Ceiling of the Sistine Chapel, photo by Aaron Logan [CC BY]
God, the supreme artist, spoke: "Let there be light"—and there was light. This primal creation on the first day manifested the order God brought into the chaos. We are blessed with eyes to receive this light that illuminates the beauty of God's handiwork. We can go further, however, and see how we, too, are called to share in God's work, to "subdue" the earth, contributing our own work to bring forth additional order and beauty.
Learning how to look
Everyone is called to become a co-creator with God in some sense, but the artist shares the special vocation of shining light onto human life. We may not all be great artists, but we can enjoy their works, which look more deeply into creation, human aspirations and suffering, and even the divine. To enjoy their masterpieces, we need to learn how to look, how to contemplate their message transmitted through the physical signs of medium and artisanship.
In my new course beginning September 15th, Icon: An Exploration of Catholic Art and Culture, we will be honing our artistic vision and developing a stronger Catholic imagination, as we immerse ourselves in the greatest art in history. There are many masterpieces that engage light, from Michelangelo's separation of light and darkness on the Sistine Chapel ceiling, the sculpted rays of Bernini's Ecstasy of St. Teresa of Avila, and the play of light on Monet's many versions of the Rouen cathedral at various times of day.
The art of interpretation
Not only we will learn about the great masterpieces, we will also learn about how to interpret them. To guide our interpretation, I am recommending a new book, Carolyn Schlam's The Joy of Art: How to Look at, Appreciate, and Talk about Art (Allworth Press). The book will help us to accomplish one of the key goals of the class—not just to learn about art but to enter into the art of interpretation. It provides clear definitions and terms, criteria for looking at art, an overview of different media and genre, and tips for decoding works of art
The goal of this decoding is to shine light onto the work, to perceive its own light that has been shed on reality. "Nothing would be visible without light," Schlam argues. "So light is the number one reality the artist deals with. There is light, the natural agent that makes all visible, and there is lighting, which refers to an artificial source of illumination. Painters deal with both and often choose or set up the condition they prefer…. When you look at a painting, try to imagine what and where was the artist's source of light" (24). She continues, "looking at how artist of the past painted lit objects and light itself will figure into your analysis of all painting. The light, the light, it is everything!" (25).
"Let there be light!"
God not only illuminated his creation at the beginning of time. He continues to shed light into our hearts and minds, helping us to see into his divine life. The light of faith also shines into the darkness of the world, illuminating a path to order all things to the goal of heaven. Christian art casts this light on the human experience, illuminating the world through faith and a sacramental imagination. This imagination comes from God's own taking on of flesh in the Incarnation, making our humanity a way of manifesting eternal light in the world: "In him was life, and the life was the light of men. The light shines in the darkness, and the darkness has not overcome it" (John 1:4–5).
The Incarnation has led to the greatest masterpieces of art, emanating from the light of Christ. "A masterpiece," Schlam rightly tells us, "often leads a path to something new or magnifies an element that makes us see in a new way. It is a visionary experience" (51). We can learn to see the world and our faith more deeply through Christian art, and I hope you'll join me this coming year on a visionary exploration of the history of art as we grow in our ability to see light.
Due to the online format for the 2020–2021 school year, this course and our other Enrichment Courses are available to anyone, anywhere!