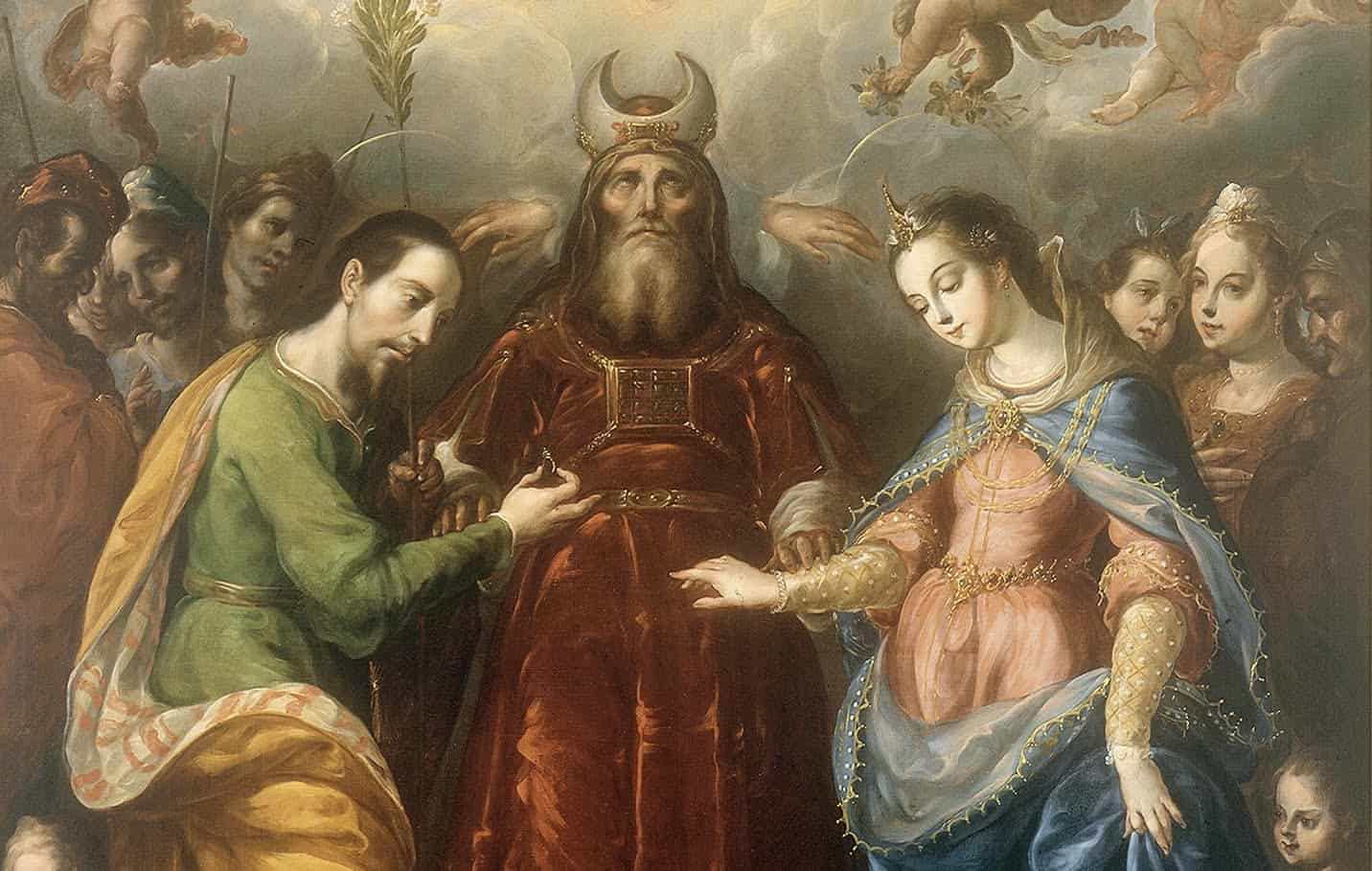 (Image: Cristóbal de Villalpando, detail of The Betrothal of the Virgin to Saint Joseph)
When I teach the Gospel of Matthew in my high school Scripture course, I ask the students to share their favorite quote from St. Joseph. Without fail the only response I receive is silence (and dumbfounded expressions). At this point I shout out, "Hey, me too!" The gospels record no words from Joseph, but his actions speak volumes about how to live a life of true and profound silence.
Robert Cardinal Sarah, in his book The Power of Silence: Against the Dictatorship of Noise, describes silence as "the positive attitude of someone who prepares to welcome God by listening." It is in Joseph's silence that he is able to allow God to lead him to welcome the Christ child, as we see in the opening action of Matthew's gospel, often referred to as the Annunciation to St. Joseph:
Now the birth of Jesus took place in this way. When his mother Mary had been betrothed to Joseph, before they came together she was found to be with child of the Holy Spirit; and her husband Joseph, being a just man and unwilling to put her to shame, resolved to send her away quietly. But as he considered this, behold, an angel of the Lord appeared to him in a dream, saying, "Joseph, son of David, do not fear to take Mary your wife, for that which is conceived in her is of the Holy Spirit; she will bear a son, and you shall call his name Jesus, for he will save his people from their sins." All this took place to fulfill what the Lord had spoken by the prophet: "Behold, a virgin shall conceive and bear a son, and his name shall be called Emmanuel" (which means, God with us).  When Joseph woke from sleep, he did as the angel of the Lord commanded him; he took his wife, but knew her not until she had borne a son; and he called his name Jesus. —Matthew 1:18-25
The only explicit detail this passage gives us about Joseph's character is that he was a "just man." The Greek word dikaios can also be translated as "righteous." It means conforming to the will of God or in a right relationship with God. And for a Jew being just or righteous meant adhering to the Law of Moses—the revealed will of God for his chosen people.
In the genealogy immediately preceding this passage we hear how Joseph is descended from King David (Matthew 1:1–17). And now we are told that this royal heir is betrothed to a woman named Mary. In first-century Judaism, betrothal was much more than the ancient version of getting engaged—it was the beginning of the marriage covenant. The wedding feast and the spouses moving in together would come up to one year after the betrothal, but a betrothed couple was already legally married. Only divorce or death could end a betrothal.
So this just man learns that his betrothed is with child—and he knows that the child can not be his. If Joseph suspected that Mary's pregnancy was the result of infidelity before their betrothal, the just course of action—that in accord with the Law of Moses—would be to pursue a divorce (send her away) according to Deuteronomy 24:1–4. On the other hand, if Joseph suspected that Mary had been unfaithful after the betrothal, that would be the sin of adultery and the punishment under the law was death (see Leviticus 20:10). To merely divorce her would have been to disregard the Law and therefore an injustice—not an option for a righteous man.
I grew up thinking that Joseph suspected Mary of being unfaithful but didn't want to expose her publicly. This seems to be the most common interpretation of this passage, and it was the interpretation of many Church Fathers, including St. Justin Martyr, St. Augustine, and St. John Chrysostom. It's a straightforward and reasonable explanation, but it isn't the only possibility behind Joseph's planned course of action.
What if the just Joseph believed his betrothed when she told him she was miraculously carrying the divine Messiah? After all, Joseph would have already been familiar with Isaiah's prophecy about a virgin conceiving and bearing a son. In that case, Joseph's resolve to divorce Mary quietly suggests a profound humility: he considered himself unworthy to take part in this holy plan, and he sought to reverently and discretely distance himself from this divine mystery. This is how the great scholars and mystics St. Bernard of Clairvaux and St. Thomas Aquinas interpreted Joseph's response.
Joseph deemed himself unworthy, but God had chosen him for this particular role. His humility initially prompted him to quietly draw back from this mighty work of God. But when the angel tells Joseph not to fear, Joseph, in his humility, silently obeys. Only in a life of silence, a life of that "positive attitude of someone who prepares to welcome God by listening," could Joseph have possibly been ready to receive and respond to this call. This is true righteousness—conforming to the will of God, even when that will looks very different from what we might have expected or planned ourselves.
Following the model of Joseph, let us prepare our hearts this Advent in silence, awaiting the day when we will welcome Jesus Christ into the world and striving to be ever ready to lay down our own wills for the will of God.