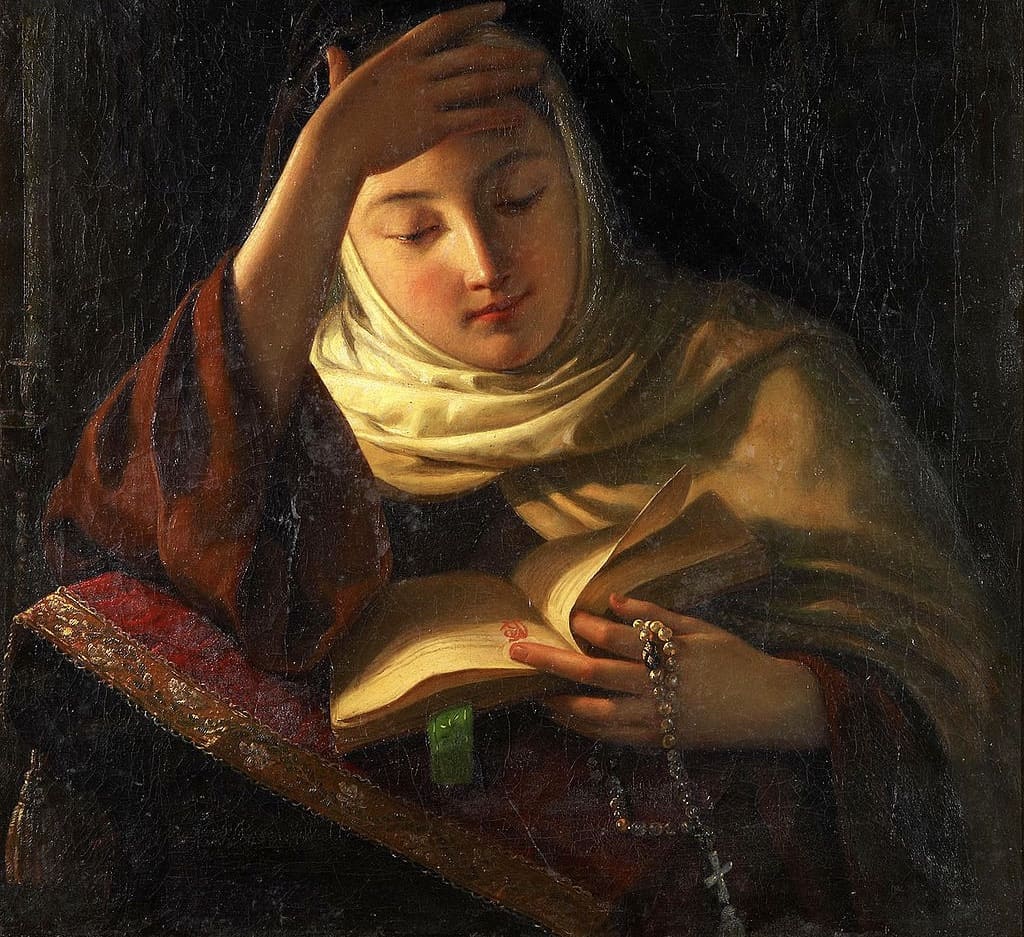 Image: Sergei Gribkov, Young Nun at Prayer [public domain]
Last week we looked at how humility is an absolute pre-requisite to fruitful prayer. Indeed, it is the very foundation of prayer. At its core, humility is an understanding of our status as sons and daughters of God. It may not be flattering to be faced with how weak we truly are, but hopefully it is comforting to learn just how universal the experience of distractions in prayer is. We also looked at just how cherished we are in God's eyes and how resting in this fact will empower us to fulfill the counsel the Catechism offers on dealing with distractions. We never quite got to that counsel, however, so let us pick up where we left off.
Simply Refocus
The Catechism of the Catholic Church in paragraph number 2729 gives us some practical and—dare I say—humble advice in dealing with distractions:
"To set about hunting down distractions would be to fall into their trap, when all that is necessary is to turn back to our heart."
This is practical advice in that it lays down a simple, albeit rather unglamorous, program of action that anyone can handle. When one discovers one is distracted, one must simply re-focus on the Lord. Return to the prayer. No need to beat oneself up over the failure. No need for extravagant pledges, plans, or arduous pilgrimages to make up for lost time.
It is also humble advice. It offers no promises that in returning to prayer it will become easier or less distracted. It also offers no rewards and makes no claim that mastery will bring about mystical visions or locutions from on high. It simply says to try and try again—calmly, quietly, and without drama.
Too Simple Not to Try
What?! That's it? Try and try again? Phooey!
Hold on a second. Before we throw our hands up and march off in disgruntled disgust, let us recall a certain leper by the name of Naaman. Second Kings chapter five tells us that Naaman actually became very angry when told to wash in the river Jordan seven times to remove his leprosy. Why? Given that Naaman brought along ten festal garments and a mighty stash of cash, it is reasonable to surmise that Naaman both intended to pay for his healing AND, because of the immensity of his gift, that he was expecting something extravagant. Washing seven times in the Jordan was beneath him. It was too simple, too humble. Fortunately Naaman's servants called him out on his arrogance saying, "My father, if the prophet told you to do something extraordinary, would you not do it? All the more since he told you, 'Wash, and be clean'?"
Here we have to pause and ask ourselves, are we like the angry Naaman? Is the counsel of the Catechism too humble, too beneath us? Do we think that, based on our own merits and the gifts we bring to the table, we should somehow be able to secure a more wonderful solution? Or are we disappointed that there is no silver bullet designed to forever shoot down distractions?
Whatever our reaction to the Catechism's counsel, we have to take it seriously. This is why humility is foundational to our life of prayer. If we are not humble, then we do not recognize that we do not "know how to pray as we ought" (Romans 8:26) and are therefore incapable of being taught.
Simply Transformed
On the other hand, if we are humble, if we recognize we may fall a thousand times in an hour, then great things happen. If we understand that our prayer gift will be soiled with the grime and dust of our failures, but we choose to carry on, it is then that great things happen. It is then that dealing with distraction in prayer becomes what it is meant to be: a labor of love. And in this labor of love, the dirtier we get and the grimier we become and the heavier the burden we bear, the more we are magnificently transformed. We begin to look more and more like a certain Jewish carpenter who was made to carry his burden through the grimy streets on the way to Golgotha.
Wow! The wonder of it all. In and through our very distractions in prayer we can become more like Jesus. What can be more pleasing to the Father than to see the countenance of his Only Begotten Son reflected in each of us?
So, the next time you find yourself dozing off in prayer or discover that you are thinking about your grocery list rather than the 5th Glorious Mystery, take heart and refocus. You are well on your way!