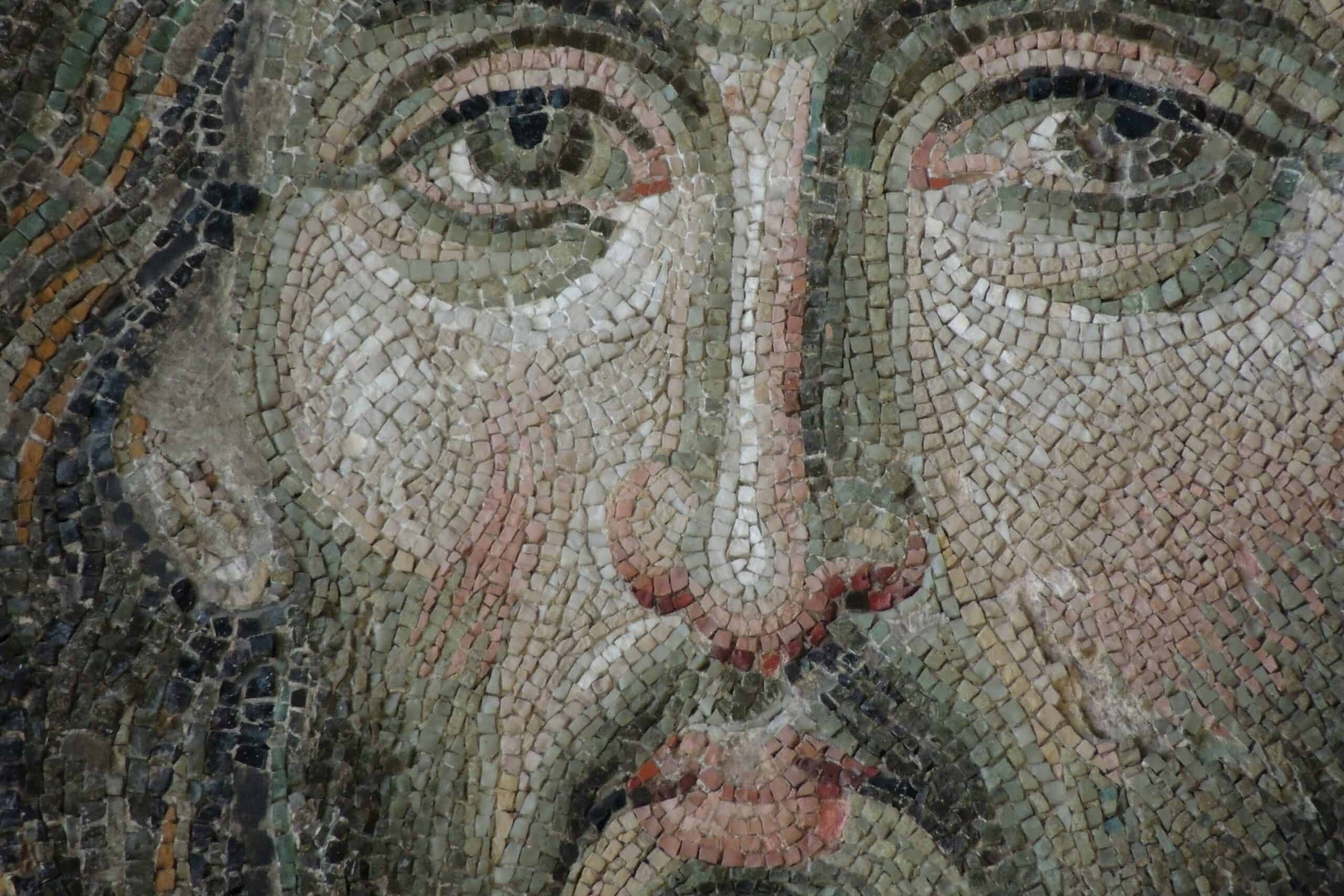 When we think back on our own story, we can't conceive of it as one coherent narrative. We might remember one moment here, and then another there, and not in any particular order. And yet, if we think for long enough, something coherent will begin to emerge. And of course, our story is not just about us; we have to think of others and their impact on us as well. Ours is one piece of a larger narrative, blending with those who came before and those who will continue after us.
How does art help us to understand our story? We could think of our life like a mosaic, pieced together, not just from our own memories but what we have received from the past, little bits here and there. We will leave an image of ourselves as a legacy here on earth—true, only to be remembered for a short time—but the outcome of our lives will endure forever in heaven. We are shaping an image of ourselves throughout our lives, disfigured by our sin, though healed and restored by God, an image that will endure.
Jesus is the perfect icon of God (Colossians 1:15), revealing the true purpose and goal of human life to us. We can understand the meaning of our lives only in light of him. He is the icon of God and an icon of what human life should be. Of course, we can read about Jesus as an icon, but do we need images of Christ to appreciate how he reveals God to us? Isn't walking by faith enough, as Paul says, "we walk by faith and not by sight" (2 Corinthians 5:7). Human beings learn through their senses and so God revealed himself to us using words, images, and the physical body of the Church. God teaches us through images and by meditating upon them we come to discover our own story in relation to Christ, the true icon. God created us in his image and likeness and as we become more like Christ we grow ever more deeply into that image.
A new novel draws together the themes of Christ as the perfect icon and the story of each one of us being pieced together in light of it. Steven Faulkner's The Image: A Novel in Pieces (Beaufort Books, 2021) provides an utterly unique take on the art and power of iconography, written in little scenes like tesserae, the little stones that make up a mosaic. Faulkner writes convincingly of the 8th and 21st centuries in the same book, a feat that can't be taken for granted! The story begins with Kostas, a boy fleeing to Lebanon in the 8th century from the persecution of the iconoclasts, who, under the influence of heretical Byzantine emperors, sought to destroy all images of Jesus and the saints. Kostas, whose father was killed for producing icons, had to work in secret to create his great masterpiece, an image of Christ hidden in a mountainous cave. The icon rests in the protection of the cavern until discovered by a National Geographic photographer in the 21st century.
The conflict between the Lebanese protector of the icon and the photographer forms the climax of the story. Yusuf, who worked at an American carwash for decades before returning home to Lebanon, finds peace in keeping the secret of the lost icon safe. After a physical confrontation in a futile attempt to prevent the photographing of the secret icon, Yusuf explains the spiritual power of the icon, "I look at him, and he looks at me, and I am lost in the looking." He tries to explain to the American photographer the ability of Christ to speak through stones, using a silent language that reaches the heart. After worming his way into taking photographs, the American, Philip, returns home, though not unchanged. Though a non-believer, he explains the power of the icon to his fiancée: "It looked at me. At me, Philip. Not surprised at all to see me, like he was expecting me these thousand years and more." The story ends in suspense over whether Philip will expose the icon's secret location to the world, cashing in on a successful story, or will allow it to penetrate more deeply into his own heart.
Faulkner's book is a mosaic, portraying the hidden power of Christ to speak to us through art and beauty. In our own efforts to piece our life together, we need Christ to act as the key that unlocks our story and draws it together into a coherent whole. Christ took on flesh not to remain aloof; he condescended into the messiness of human life to transform us from the inside. We need stories to guide us in capturing and making sense of our memories, like the photographer stumbling into a cave and taking in its beauty. God gives us signs to guide us, including the beauty of his own human face, pieced together with stones or brushstrokes to help us to see him.  Great art praises God and leads us into praise. With Kostas, we could ask, "Did not our Lord himself say that if the people would not praise God, the very stones would cry out?"